Welcome to Intervale at Stratton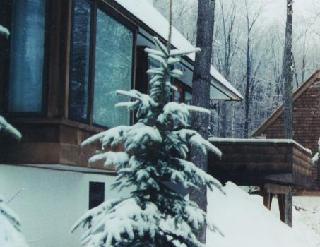 An "intervale" in New England usage is a low-lying tract of land found along a river or between hills. Intervale at Stratton is a residential community nestled and hidden away in a hardwood forest just off the beaten path to Stratton Mountain.
Carefully conceived and designed, Intervale at Stratton works with what Nature has provided in hills and foliage to complement what is crafted by man. Each Intervale home is placed on the gently rolling site to emphasize a real sense of spaciousness. Roadways, buildings, and ponds occupy only a quarter of the entire parcel. To further preserve the wooded character of the land, each home is sheathed with cedar shakes to blend into its natural surroundings. The original treelines and contours of this intimate intervale remain unbroken and undisturbed.
Inside each home, there is ample evidence of fine Vermont craftsmanship and intelligent interior design. The detailed oak trimwork and antique fireplace brick reveal a reverence for wood and natural materials. The living areas are spacious and functional, enhanced by large bay windows and subtle lighting techniques. Of course each Intervale unit is equipped with appliances for convenience and comfort.